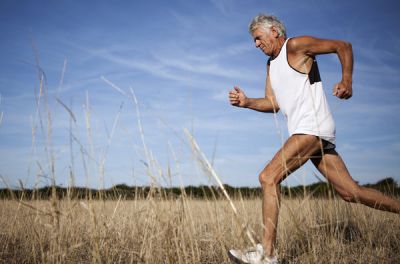 While mild exercise like walking is better than none, it takes more vigorous exercise to have strong anti-aging benefits.
In fact, when the researchers compared their older runners' walking efficiency to that of young people, which had been measured in earlier experiments at the same lab, they found that 70-year-old runners had about the same walking efficiency as your typical sedentary college student. Old runners, it appeared, could walk with the pep of young people.

Older walkers, on the other hand, had about the same walking economy as people of the same age who were sedentary. In effect, walking did not prevent people from losing their ability to walk with ease.

...

The researchers speculate that this difference resides deep within their volunteers' muscle cells. Intense or prolonged aerobic exercise, such as running, is known to increase the number of mitochondria within muscle cells, said Justus Ortega, now an associate professor of kinesiology at Humboldt University, who led the study. Mitochondria help to provide energy for these cells. So more mitochondria allow people to move for longer periods of time with less effort, he said.

Runners also may have better coordination between their muscles than walkers do, Dr. Ortega said, meaning that fewer muscles need to contract during movement, resulting in less energy being used.

...

The good news for people who don't currently run is that you may be able to start at any age and still benefit, Dr. Ortega said. "Quite a few of our volunteers hadn't take up running until they were in their 60s," he said.